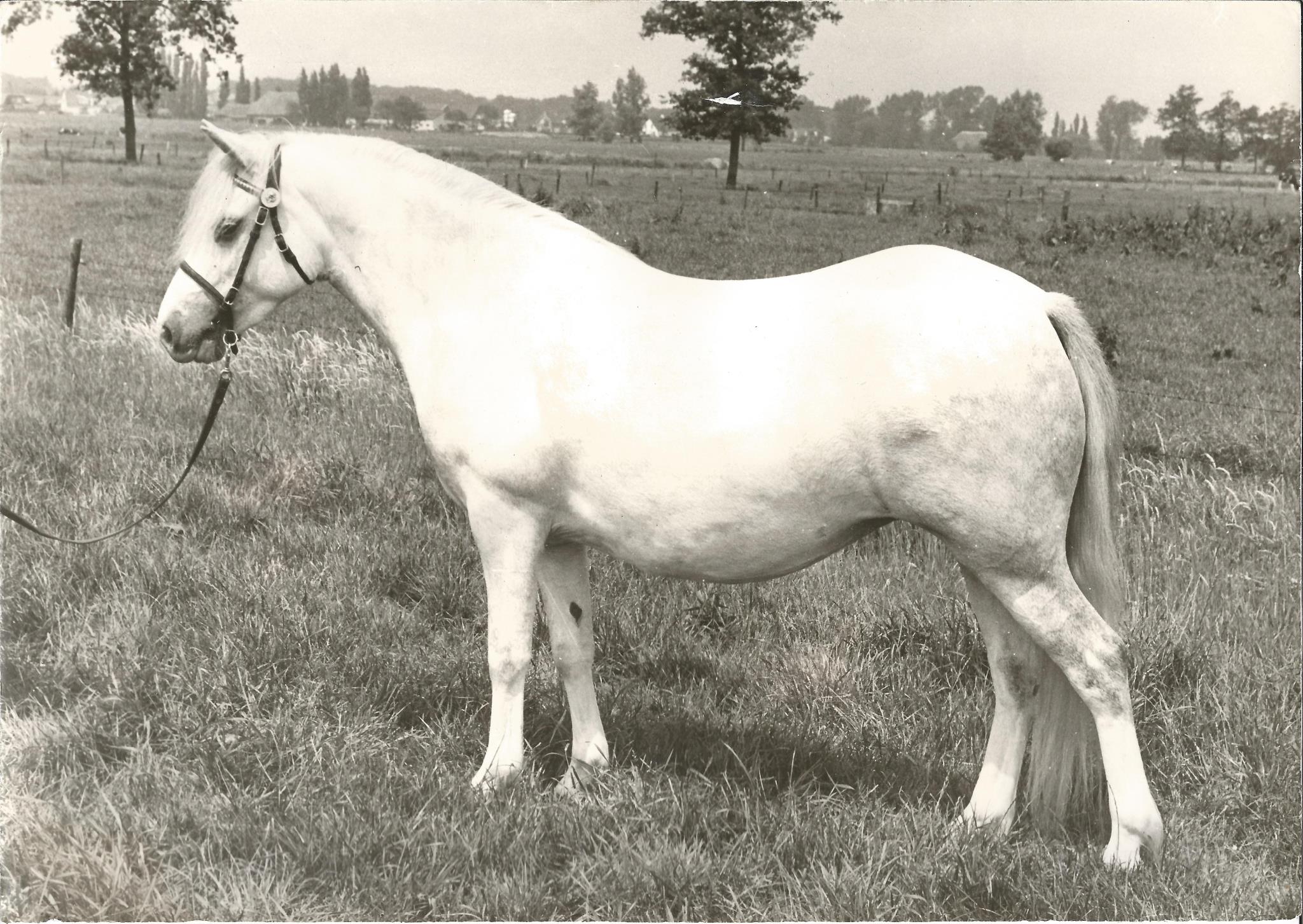 Born: 1972
Breeder: T.J. Gwyn Price, Wales (Photo by Ellen van Leeuwen)
Dyrin Tina, winning the national championship of the Netherlands in 1983.
Dyrin Tina will go into history as one of the most prolific mares of her times. She has won every prize possible in the Netherlands and her extended offspring is still going very strong at shows. No national show has gone by in the past years without any of Tina's descendants scoring high. In her prime, Tina would score highest through her very strong movements and her true mountain pony type, as well as a wonderful eye. All of this, she passed on to her offspring.
| | |
| --- | --- |
| | |
| Dyrin Tina at the 1981 National Show | Dyrin Tina at the 1983 national show |
Sumrin still breeds from Dyrin Tina's descendants. As Tina retired from the breeding arena, she picked up a riding career even winning prizes in competitions. At the age of 27, Tina revisited Sumrin to once more re-unite with her progeny and show the world she was still the queen of all.
Tina passed away in 2006 at the grand age of 34.
---
Dyrin Tina
Dyrin Martini
Criban Bantam
Bolgoed Shot Star
Grove Sprightly
Vardra Sunflower
Criban Brenda
Criban Cockade
Criban Ruby
Cwmowen Nutshell
Dyrin Athlete
Criban Cockade
Dyrin Princess
Cwmowen Lady
Forest Blue Banner
Cwmowen Young Cream Nellie
Dyrin Grey Dawn
Gaerstone Viscount
Bowdler Blue Boy
Bowdler Brightlight
Cleveland Marine
Gaerstone Margaret
Bowdler Blue Boy
Gaerstone Lady
Orgwm Dawn
Cui Chief
Criban Snowball
Cui Laurel
Orgwm Daydream
Whitehall Knight
---
 Some highlights of Dyrin Tina's career 
1975: Best 3 year old and best representative of the breed.
1976: Champion at regional show in Bavel, "ster" premium at the national
1979: National Champion
1980: Ridden test IBOP (91 Points) AA +'Keur' certificate
1981: National Reserve Champion
1981: Received "Preferent" premium for good breeding results
1983: National Champion and retired from showring
1997-1999: Appeared in ridden classes and won
2000: Received Elite premium for excellent breeding results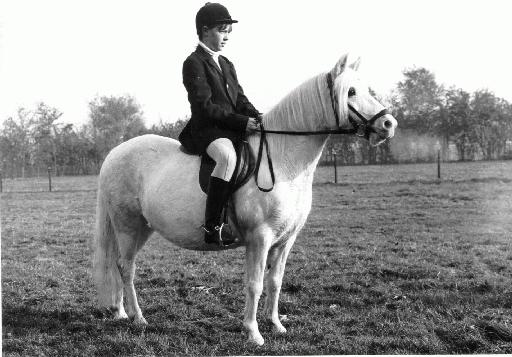 Dyrin Tina had 15 foals at Sumrin:
| | | | | |
| --- | --- | --- | --- | --- |
| 1976: | Sumrin Tristan | by | Coed Coch Brodor | colt |
| 1977: | Sumrin Titus | by | Leith Popover | colt |
| 1978: | Sumrin Tiara | by | Vardra Julius | filly |
| 1979: | Sumrin Ticino | by | Vardra Julius | colt |
| 1980: | Sumrin Titiana | by | Vardra Julius | filly |
| 1981: | Sumrin Terence Hill | by | Vardra Julius | colt |
| 1982: | Sumrin Tirana | by | Vardra Julius | filly |
| 1983: | Sumrin Tsarina | by | Criban Star Fiddle | filly |
| 1984: | Sumrin Tessa | by | Criban Star Fiddle | filly |
| 1986: | Sumrin Tania | by | Hisland Pye | filly |
| 1988: | Sumrin Taru | by | Dyfed Geraint | filly |
| 1989: | Sumrin Tequila | by | Vardra Julius | filly |
| 1990: | Sumrin Taxandria | by | Vardra Julius | filly |
| 1992: | Sumrin Toendra | by | Vechtzicht's Harmony | filly |
| 1993: | Sumrin Tricia | by | Vechtzicht's Harmony | filly |