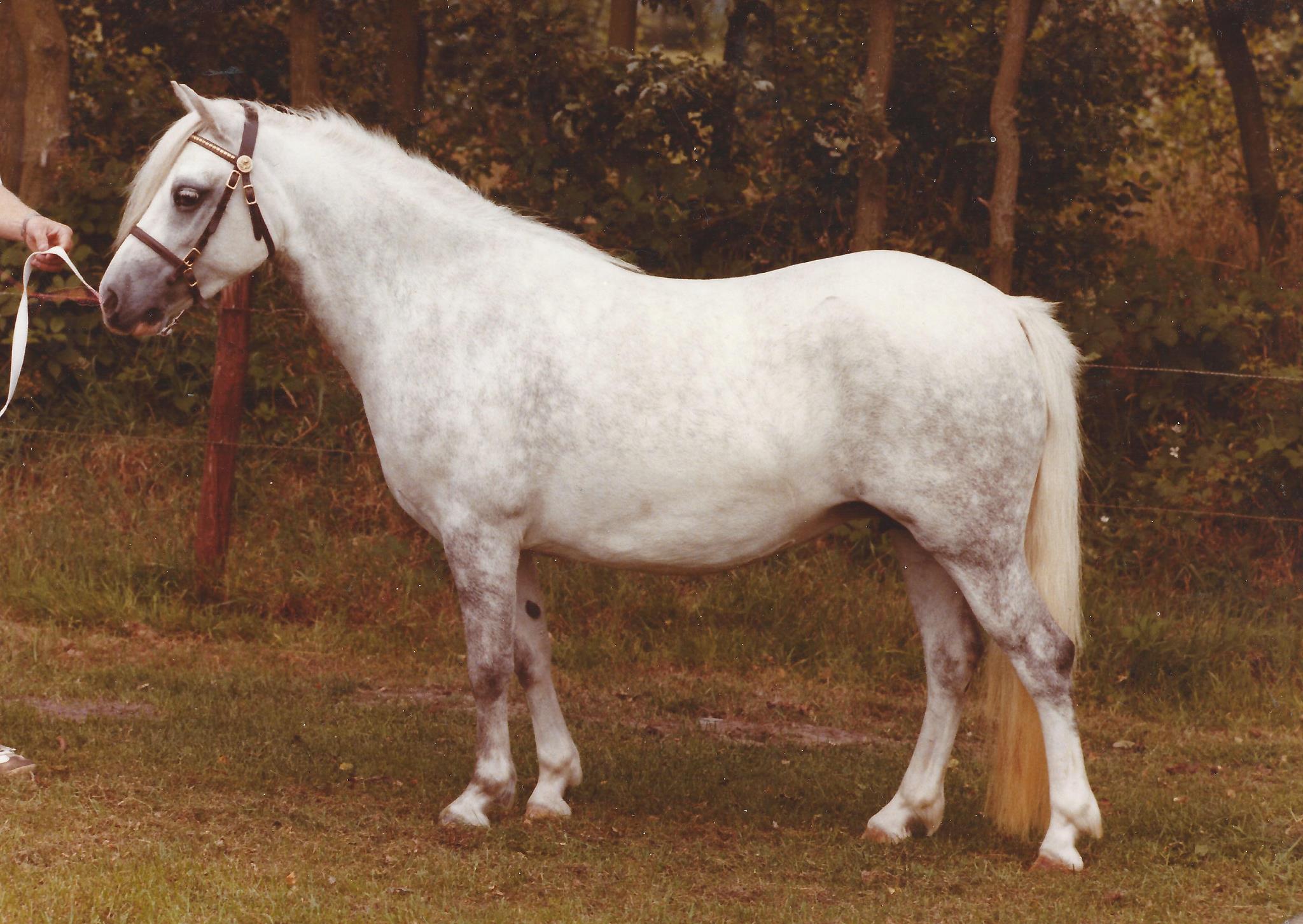 Sumrin Tiara
(Photo by Ellen van Leeuwen)
Born: 1978
Sumrin Tiara was a very special pony. She was Dyrin Tina's first filly, and also the first filly we had by Vardra Julius. Her career was at least amazing. As a yearling, the first show she was entered, she won junior championship, with a yearling from our home town named Iris (by Coed Coch Brodor) placed second. Both qualified for the southern Netherlands show, where Tiara again won junior championship and both yearlings qualified for the national. At the national, roles were reversed, Iris won the class and won national junior championship.
In 1980, Sumrin Tiara came back to the showring. Again, local, regional and national shows. This time a full win, all three times she won junior championships. Although, as we had Sumrin Titiana already, my father decided to sell Tiara to Mr. van Zeeland of Hofke stud. Later some more with her offspring.
In 1981, Sumrin Tiara came back again. This time to win best three year old. This was the top year for Sumrin, as at the national, Sumrin Titiana won junior championship, Tiara won the best three year old cup (with a foal at foot, which has not been repeated many times!). Mother Dyrin Tina won national reserve championship, which was quite the achievement.


---
---
At Hofke, Tiara had quite a breeding career, from her, the three best ones were:
Hofke's Sophie by Weston Falcon, champion mare
Hofke's Socrates by Rowfant Saul, 1st premium stallion
Hofke's Desiry by Hisland Pye, "ster" mare.
All three belonged to the best stock those stallions got. Socrates was the only approved stallion by Rowfant Saul.
Hofke's Sophie actually built a dynasty on her own. She seemed to click very well with Hisland Pye, which amongst other nice ponies produced Hofke's Daisy, one of the nicests mares by Hisland Pye. Hofke's Daisy was put to Sophie's halfbrother, Nachtegaal's Captain to preduce the champion mare Nebus Serena, one of the foundation mares of Roetsenest stud.
There she produced the champion stallion Roetsenest's Santa Fe.
Sumrin Tiara
Vardra Julius
Twyford Sprig
Coed Coch Asa
Gredington Hynod
Coed Coch Anwyled
Revel Spring Song
Pendock Playboy
Revel Serenade
Revel Pinup
Revel Light
Pendock Playboy
Winestead Larina
Revel Playtime
Pendock Playboy
Winestead Zenia
Dyrin Tina
Dyrin Martini
Criban Bantam
Bolgoed Shot Star
Criban Brenda
Cwmowen Nutshell
Dyrin Athlete
Cwmowen Lady
Dyrin Grey Dawn
Gaerstone Viscount
Bowdler Blue Boy
Gaerstone Margaret
Orgwm Dawn
Gaerstone Viscount
Orgwm Daydream
---