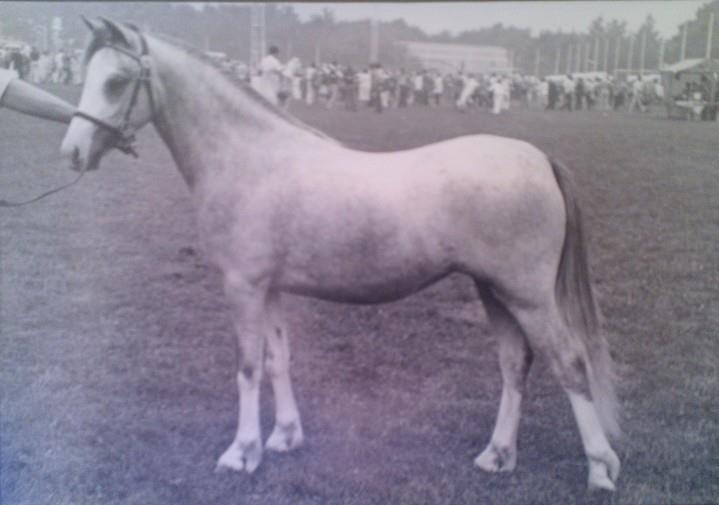 Sumrin Titiana
Born: 1980
(Photo by Ellen van Leeuwen)
Junior National Champion, 1981
---
Sumrin Titiana was born in 1980 in Lierop at Sumrin. She was the fifth foal Tina gave birth to. It was quite a sunny day in the middle of the field, the same place where tristan was born, except for the fact that the tree had been cut already. It was as sunday, many cyclist came by the field and used their camcorders to record the moment for posterity.
She had quite a succesful showing career. At the first two shows, she won the yearling class. In the competition she lost from her paternal halfsister Varpullan Vina. At the second show, she qualified for the national, where she was first in her class. leaving halfsisters Varpullan Ester and Varpullan Gwenna and Hengelhoef's Alexia right behind her. At that show she managed to win the junior championship as well. (Continued after pedigree)
---
---
Sumrin Titiana
Vardra Julius
Twyford Sprig
Coed Coch Asa
Gredington Hynod
Coed Coch Anwyled
Revel Spring Song
Pendock Playboy
Revel Serenade
Revel Pinup
Revel Light
Pendock Playboy
Winestead Larina
Revel Playtime
Pendock Playboy
Winestead Zenia
Dyrin Tina
Dyrin Martini
Criban Bantam
Bolgoed Shot Star
Criban Brenda
Cwmowen Nutshell
Dyrin Athlete
Cwmowen Lady
Dyrin Grey Dawn
Gaerstone Viscount
Bowdler Blue Boy
Gaerstone Margaret
Orgwm Dawn
Gaerstone Viscount
Orgwm Daydream
---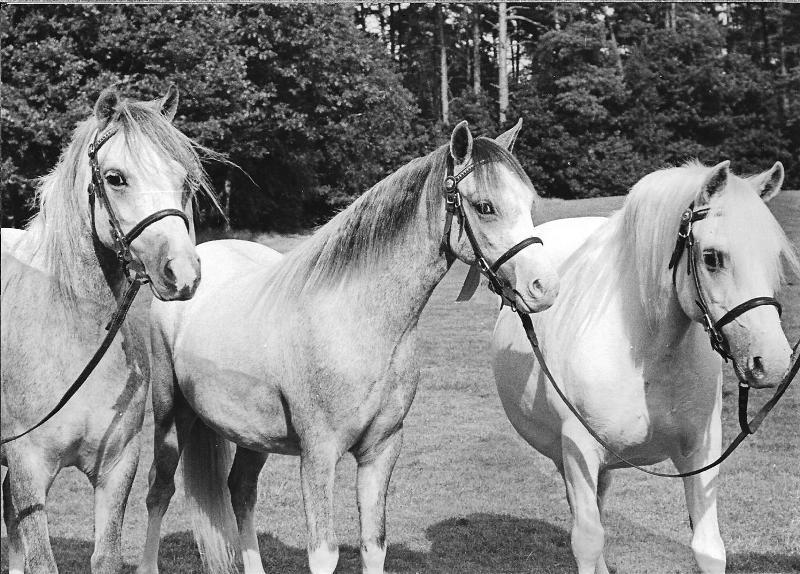 The 1981 national show was quite a remarkable one to us. At a national show, 4 main prizes can be won. This were the results:
National Championship: Gwen Vale Bethan
National reserve Championship: Dyrin Tina
Best three year old: Sumrin Tiara
Junior Championship: Sumrin Titiana.
As you see, Tina and her first two daughters by Vardra Julius ruled the showground almost.
Sumrin Tiara was already sold, Tina had a colt at foot, Sumrin Terence Hill and Titiana was at that moment the only daughter we owned. We turned down some very good offers for her and she stayed at Sumrin. 1981 was the last year she was shown.
In 1982, we purchased Criban Star Fiddle, to get Titiana in foal to him. Titiana got a magnificent foal by him, named Sumrin Bluebell. Bluebell story can be found in her own page. With Bluebell at foot we decided to sell Titiana. At that time we retained Bluebell, Tessa, Tirana and Tina, so we had a good future perspective.
Her new owner went blind unfortunately and she was sold on. She died at the age of 7, unfortunately, but leaving three daughters:
Sumrin Bluebell by Criban Star Fiddle
Silvertop's Tina by Hisland Pye
Silvertop's Ilona by Hisland Pye