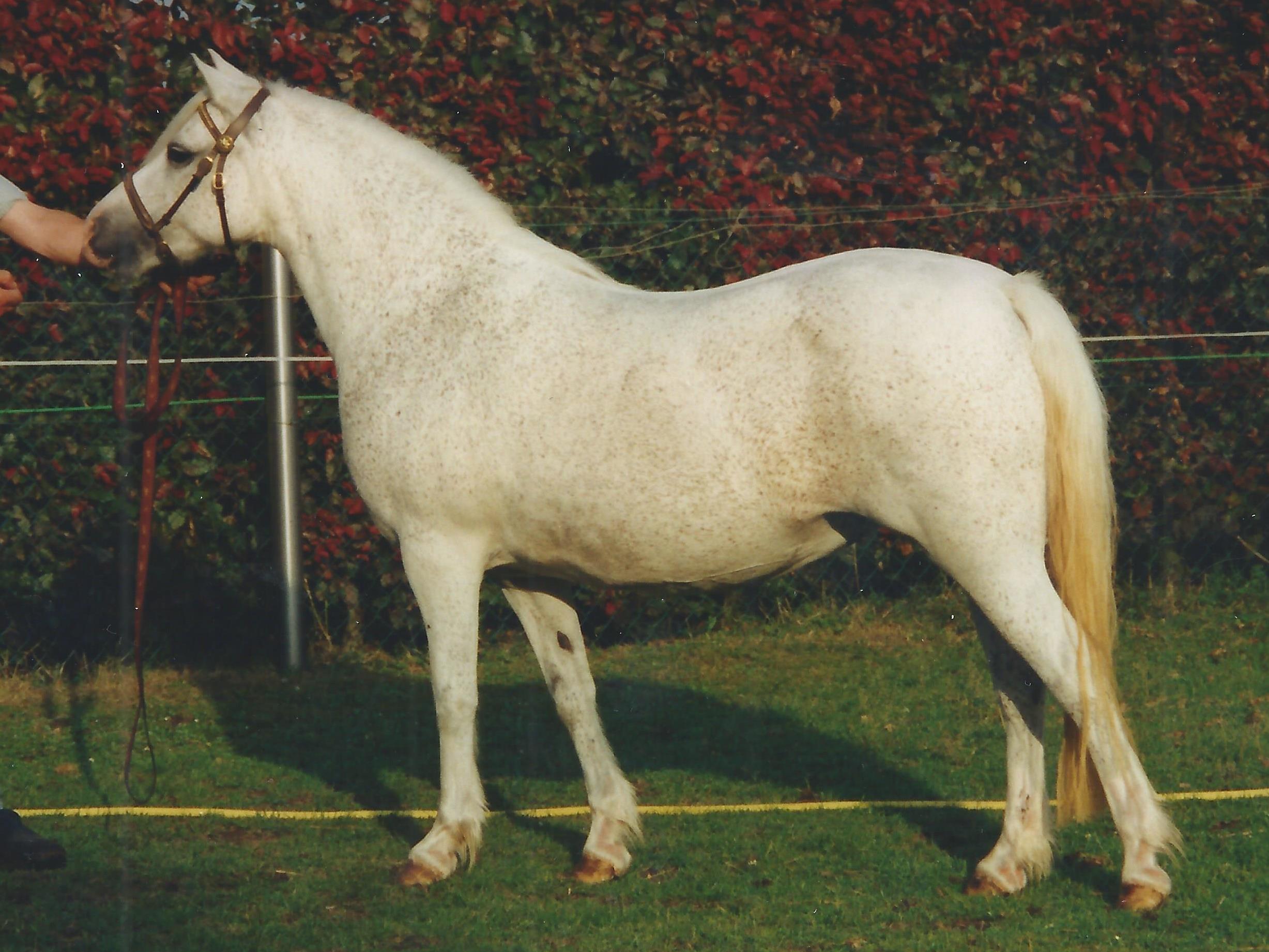 Sumrin Taru
(Photo by Joost van Gestel)
Sumrin Taru , August 1, 2003.
Born: June 2, 1988; Deceased: January 9, 2017 
premium: voorlopig keur, elite
Breeder/Owner: J. van Gestel
---
Taru has been our leading mare for many years.
In 1987, Arthur Spronken (Varpullan) and Jan Retera (Bolster) decided to visit the Revel once more in September. We urged Arthur to try to lease or purchase Revel Humming Top, but Arthur fell in love with Dyfed Geraint and agreed on a lease swap with Vardra Julius for one year. Dyfed Geraint already had left quite an impression in the Netherlands by siring Dyfed Playfair, youngstock champion of the Netherlands in 1985 and 1986.
Dyfed Geraint was not really available at public stud, but we were allowed to take three mares to him: Dyrin Tina and her two daughters, Sumrin Tessa and Sumrin Tirana. In fact, Arthur gave us a free service for Tina, as he always loved to have her in the field. Only Tina returned in foal. 18 days later, she was the first pony ever at Sumrin to be scanned with ultrasound and there we saw the beginning of a big adventure. Arthur offered us 2500 Dutch guilders for the unborn foal, but we wanted to see the result before selling.
A foal was born on June 2, 1988, whilst I was on my first tour in Finland on a training assignment. Dad and I discussed about the name and it was evident that we should somehow give it a name that refers to Finland and to Arthur and of course, start with the letter "T". Arthur's oldest daughter is named Taru Spronken, Taru is the name for "tale" or "fairytale" (ref: "The Lord of The Rings" is translated as "Taru Sormusten Herrasta", which literally translates to English as "The Tale of the Lord of The Rings").
Taru was not shown as a foal, for the obvious reason that I was living abroad for the summer. As a yearling, she won every class she was in and only letting Revel Comfrey pass for the junior championship. Always she has proven to be able to compete at the highest level.
In 1997, she won a major championship in the South of the Netherlands. The same year, her foal by Nachtegaal's Captain was first in a tough colt class at the show and as a team they won the Sundancer cup at the national show in Kootwijk. Many thanks to Mr. Piet Geelen, who showed the couple so well at the national show. In hand, the highest premium is "voorlopig keur", which she has carried since 1997.
Taru has been very fertile and has given us 18 foals, 10 of which were fillies. Two of her sons are used in stud duties in Germany and in The Netherlands. In 2010, Taru gained enough points to be awarded the "elite" premium, which is the highest premium a pony can win in the Netherlands for her progeny. 
After she had her 18th foal in 2011, it was evident that it was no longer wise to put her in foal again. In early 2013, Sumrin Taru was leased out to Wieneshof in 2013 to help out at the "zorgboerderij", where she could still enjoy life and occasionally be ridden. On January 9, 2017, Taru joined her mother.
Sumrin Taru
Dyfed Geraint
Revel Centre
Revel Chip
Clan Pip
Revel Choice
Revel Chelsea
Clan Pip
Revel Choice
Dyfed Gwen
Revel Crusader
Bowdler Brewer
Revel Choice
Dyfed Greylight
Hirganfach Llewellyn
Gurnos Greylight
Dyrin Tina
Dyrin Martini
Criban Bantam
Bolgoed Shot Star
Criban Brenda
Cwmowen Nutshell
Dyrin Athlete
Cwmowen Lady
Dyrin Grey Dawn
Gaerstone Viscount
Bowdler Blue Boy
Gaerstone Margaret
Orgwm Dawn
Cui Chief
Orgwm Daydream


---
Taru has always been first or second in her class up to the national level. She has given us the following foals:
1992: Sumrin Tatjana, filly by Lange Voren Norman
1993: Sumrin Thor, colt by Foxhunter Pantheon
1994: Sumrin Talitha, filly by Foxhunter Pantheon
1995: Sumrin Milky Way, colt by Baledon Milky Way
1996: Sumrin Winnetou, colt by Bolster Goldleaf
1997: Sumrin Tauber, colt by Nachtegaal's Captain
1998: Sumrin Taika, filly by Nachtegaal's Captain
1999: Sumrin T's Erica, filly by Nachtegaal's Captain
2000: Sumrin Tulip Festival, filly by Springbourne Huckleberry
2001: Sumrin Thomas, colt by Vechtzicht's Harmony
2002: Sumrin Tina, filly by High Flown's Japhet
2004: Sumrin Teresa, filly by Hegelhof's Serge
2005: Sumrin Tuesday, filly by Hegelhof's Serge
2007: Sumrin Tysilio, colt by Vechtzicht's Hywel
2008: Sumrin Tarcicio, colt by Synod Prophet
2009: Sumrin Turandot, filly by Ysselvliedts Superted
2010: Sumrin Tarino, colt by Kai Midas
2011: Sumrin Timea, filly by Springbourne Glide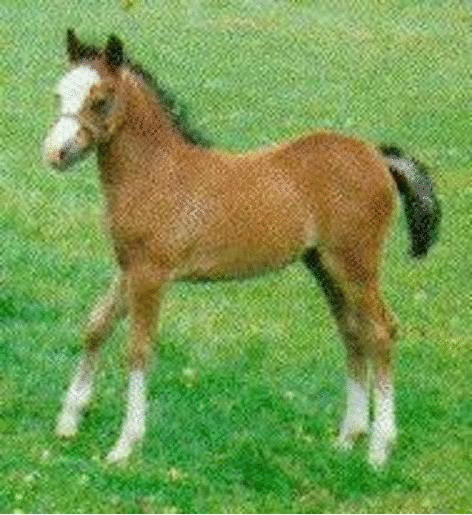 Sumrin Taru throughout the years

Sumrin Taru and her mother Dyrin Tina in the field in early 1992: