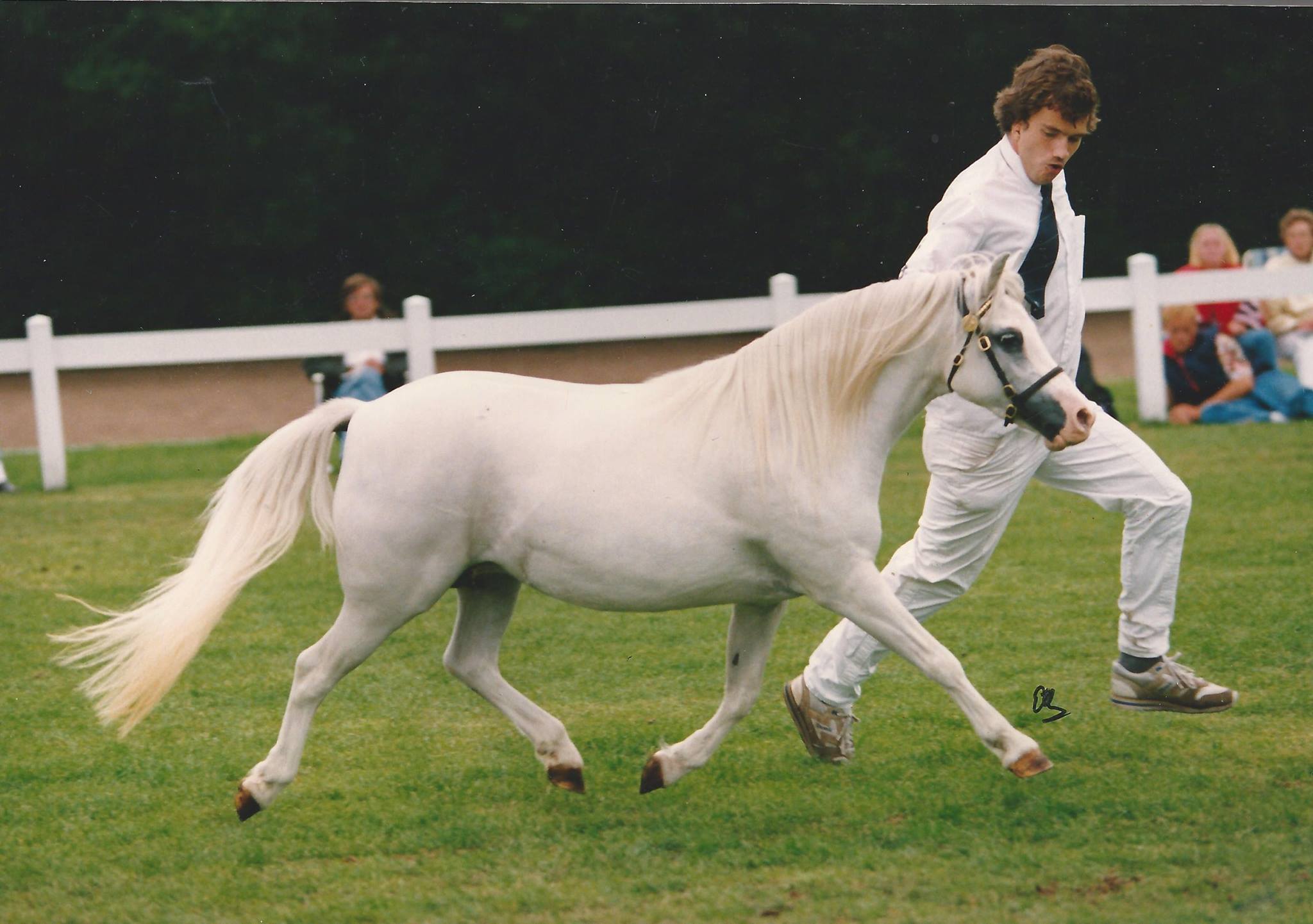 Sumrin Bluebell
Born: June 1984
Photo by Ellen van Leeuwen
Made at Dutch National Championships 1993, where she stood reserve.
Another picture of her, standing.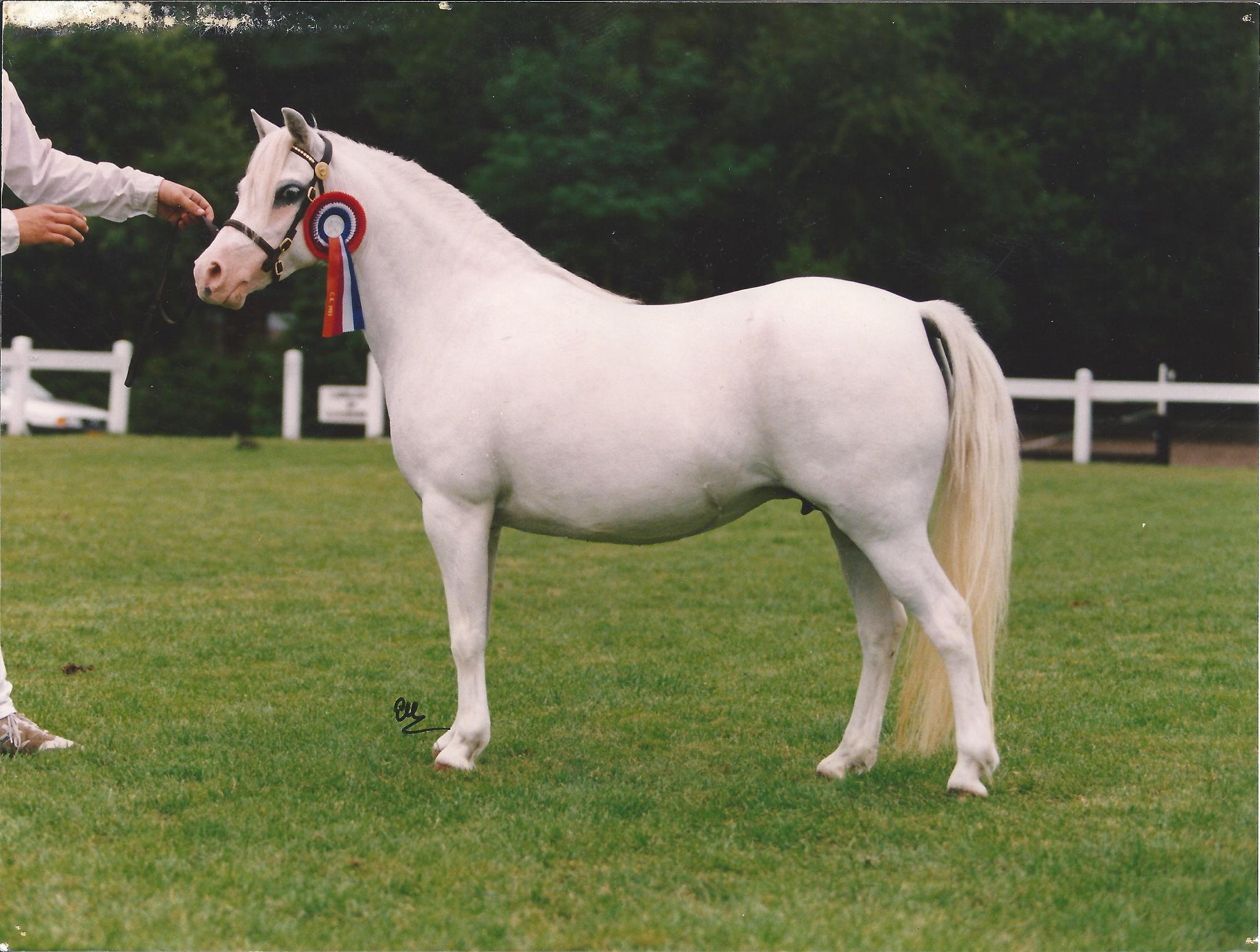 ---
Sumrin Bluebell
Criban Star Fiddle
Bowdler Beethoven
Bowdler Bert
Bowdler Blue Boy
Bowdler Beauty
Bowdler Bess IV
Criban Pom
Bowdler Bess
Criban My Stars
Pendock Peter
Owain Glyndwr
Pendock Bluebell
Criban Red Star
Vardra Sunstar
Criban Red Chip
Sumrin Titiana
Vardra Julius
Twyford Sprig
Coed Coch Asa
Revel Spring Song
Revel Pin Up
Revel Light
Revel Playtime
Dyrin Tina
Dyrin Martini
Criban Bantam
Cwmowen Nutshell
Dyrin Grey Dawn
Gaerstone Viscount
Orgwm Dawn
---
Bluebell was already a gleam in our eyes in february 1982, as we decided to buy her father to match with her mother. In 1984 the miracle happened: Titiana gave birth to one of the most beautiful foals born at Sumrin. As this little pony was linebred 7 times to to renowned Bowdler Blue Boy (born 1933), and as she danced in the field like a bluebell dancer, we decided to name her Bluebell. Bluebell is actually the first exception on the rule that descendants of Tina start with the letter 'T'.
As we saw future in Bluebell and we had three broodmares, Tina, Titiana and Tirana, we decided to sell Titiana, as we found an interested buyer in Mr. Swinkels of the Silvertop's stud. We decided that Bluebell went along with her, but we would get her back when she had to be weaned. Unfortunately, Titiana's new owner didn't care so well for the ponies and we were actually quite shocked when we got her back. Titiana was more or less skin and bones, where she had always been a mare that would get fat easily.
I trained Bluebell all winter in the forest, preparing her for the big shows in the next summer. I wanted to show this little dancer.
In Spring 1985, the first show came along. I took Bluebell to the local show at St.Oedenrode, where she was placed 4th in her class. She did qualify to go to the southern Dutch regional show, but I was disappointed that she was passed by some less refined ponies. Mr. Amory of the Home 'T' Ranch comforted me and said that at the age of seven, this mare will be the most beautiful off all. At the regional show, she failed to qualify for the national. The judges comment was that she is not as mature as the other ones in her group. In fall 85, my father decided to sell her to Mr. de Jong in Pingjum, Friesland. I was gone for the day, so I couldn't change what was happening.
In Spring 1986, Bluebell was shown in Friesland. I was quite excited to go, but couldn't get a ride to go and see her. 200 miles is a long distance in the Netherlands. My good friend Harold Zoet said that many people feared the competition of Bluebell, but the judges now even gave her a second premium, which is as much as: "This is a hopeless case" in the Dutch system. In the fall, I finally made it to Friesland and was all excited. Mr. van Dongen of the Abberthome stud was with me and we specifically went to see her, to see what made her get the second premium. She was in a very dark shed and looked quite horrible, too fat and not taken care of at all. I asked Mr. de Jong if I could take her and show her. Bluebell seemed to recognize me after all that time and she danced around like only she can do. She does have a very sound trot in her. Mr. van Dongen immediately offered money for her and she was going to move to Abberthome.
In Spring 1987, Bluebell went to the regional show in Ommen. She was looking very good at the time and came into a very strong class. She still looked a bit immature. Judges said that she beat all of them in movements, but they wanted more substance and size. She came in 4th and did not yet qualify.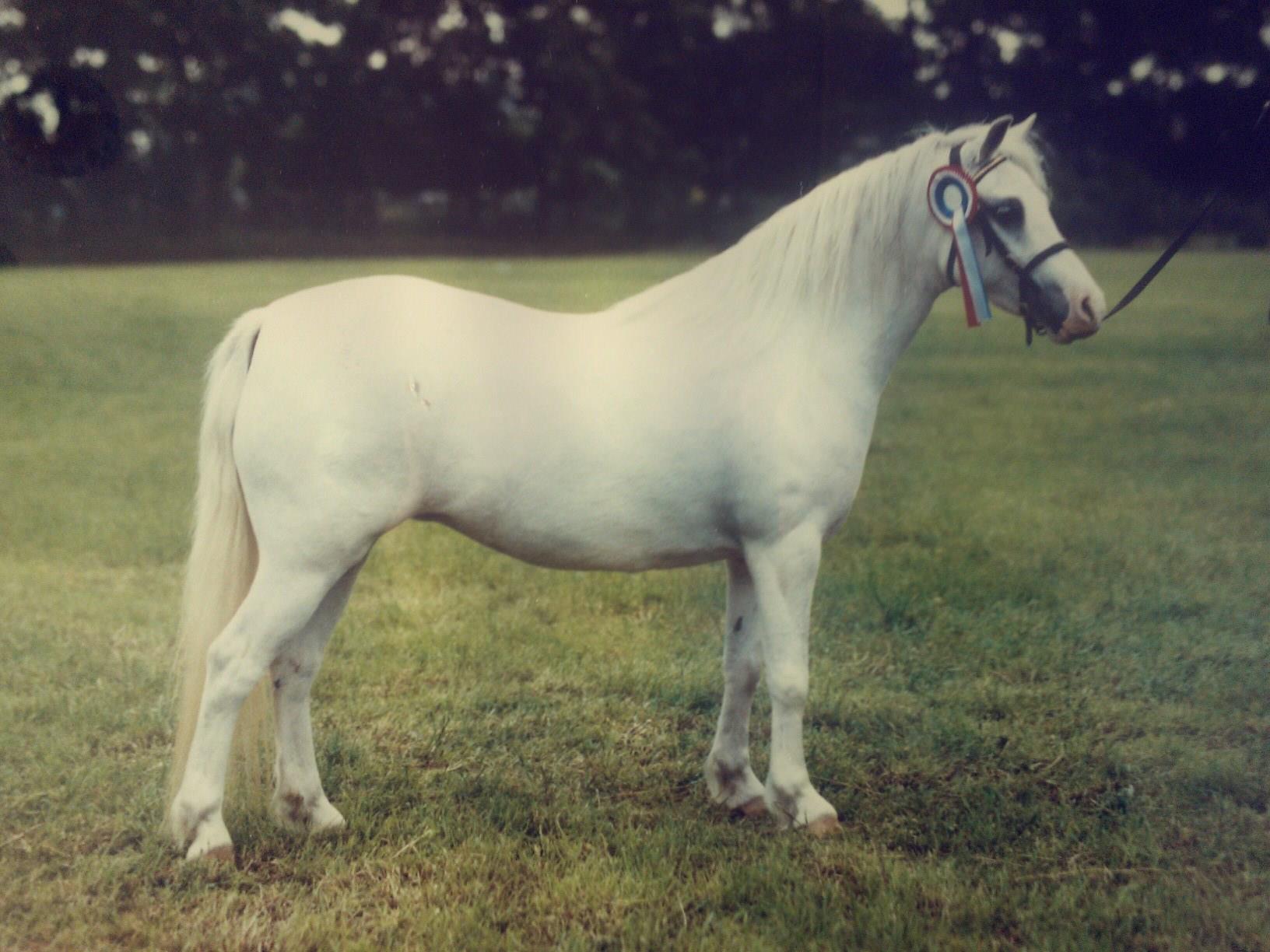 In Spring 1991, Mr van Dongen called me. He knew that I always have wanted to buy her back. I did not have any money or fields, but bought her anyway, without my father's knowledge. I trained her for 6 weeks, starting with 10 minutes per day, going up to 1 hour a day. She went again to St.Oedenrode.. She won her class, which was not a surprise to me. Then she won the Section A championship at the show. I was over the moon. After that we were going for the supreme. No chance I thought, the section B was best three year old at the national the year before. But: Bluebell did get the supreme championship of the day. I had never been that happy until then. Bluebell was finally a champion pony, at the age of seven, just as Mr. Amory said. When I pointed that out at him, he had already forgotten that he said that. At the national she won her class and many people said she was a good contestant for the national championship, but barren mares just don't go that far.
In fall, fate struck again: the man where I had leased my field, did not keep up to his promises and I had to give up the land. My father couldn't have her either, as his was stables were full. It was time to find a new owner for Bluebell. On a day, the late Mr. Jos Bastiaansen came by with a friend of his, Mr Ad van Gestel (not a relative). Mr. van Gestel came just to see Sumrin Taxandria, but fell completely in love with Bluebell on the same day. He decided to buy both on the day and came back later to buy Revel Prince Hal from us. We agreed that the foal Bluebell was carrying would be registered in our prefix. Mr. Ad van Gestel decided to drive her, which was an enormous surprise to him. From the first moment on, she behaved like she had always done this and in two weeks she entered a competition, where she ended 13 out of 20, which isn't bad for a starter. Bluebell got a filly foal by Varpullan Wieroch that year, which was named Sumrin Brenda, after Criban Bantam's mother.
As Bluebell is a very concerned mother, she was very protective of her filly and Mr. van Gestel found that it was harder to use her in harness while having a foal at foot. Mr. Bastiaansen saw this and decided to purchase Bluebell off Mr. van Gestel. Her foal Sumrin Brenda stayed with Mr. van Gestel. Mr. Bastiaansen decided to show her again at the Lierop show where I decided to enter Brenda, even if she was not in my possession. Bluebell ended up with the reserve championship, next to Mr. Bastiaansen's senior mare, Ovenzicht's Christel. Brenda won the foal chamionship on that occasion, so I was quite happy with the result.
Fate struck again: Mr. Bastiaansen was diagnosed with cancer later that year and deceased. It was a very sad event. He just got his pension and left his wife alone with the ponies. She couldn't deal with a dozen ponies, so she had to sell them away. In the meanwhile, Mr. Peter van de Linden had purchased Sumrin Tricia off us. I advised him to go and take a look at Bluebell, as she was an opportunity of a lifetime for a young breeder.
Peter decided to purchase her and to show her in the 1993 season. He asked me if I would like to present her to the jury as he couldn't do it due to pain in his back. I said that I would be very honoured. However, due to a knee injury, I failed to be able to show her at the Wanroy qualification show. As my father was already showing Revel Comfrey in the same class, we had some trouble in presenting both. My brother Niels has always been our best presenter, so he had to do Revel Comfrey. My dad did Bluebell. As they were walking, The judges immediately put Revel Comfrey up first, as she is in fact an adorable pony and Sumrin Bluebell second in a class of 20. I was standing next to the ring and just informed Remco Dobber that the judges could easily swap number one and two. As I turned around to tell this, he said: "Look!", and it had already happened. Could you see my father's face when a mare that he had sold beat a champion mare that he had bought. After the championship, where all class winners compete, Bluebell came out with the last four. Many people said she should have won, but: the judge is always right.
Bluebell was obviously qualified for the national and the game started again. In a class of 25 ponies, Springbourne Heyday was placed first and Bluebell came in second. I was thrilled with such a good result in such a heavy class. I also meant that Bluebell had a slight chance to come to the championships, to be called in for the reserve national, if Heyday would win.
Heyday did win, so Bluebell had to come in. It was clear that this was not easy. The mare that was champion in Wanroy was also in the ring. We decided to give it our best shot. The ring was 100 meter by 100 meter, so we had to run quite a bit. But that is just Bluebell's strong point. The competition had already given up on such a long day. It was, after all, already 6:00 PM. Anyway, she did it! The jury called her in, which made me a very happy man. Bluebell proved herself! Her owner, Peter van der Linden was of course impressed also. One can only wish to buy a first mare and see her get this far.
Bluebell did go on to produce a couple of nice foals, notably Our Dream Belle by Foxhunter Pantheon. At the age of 17, Bluebell was exported to Belgium, where she still produced some foals.