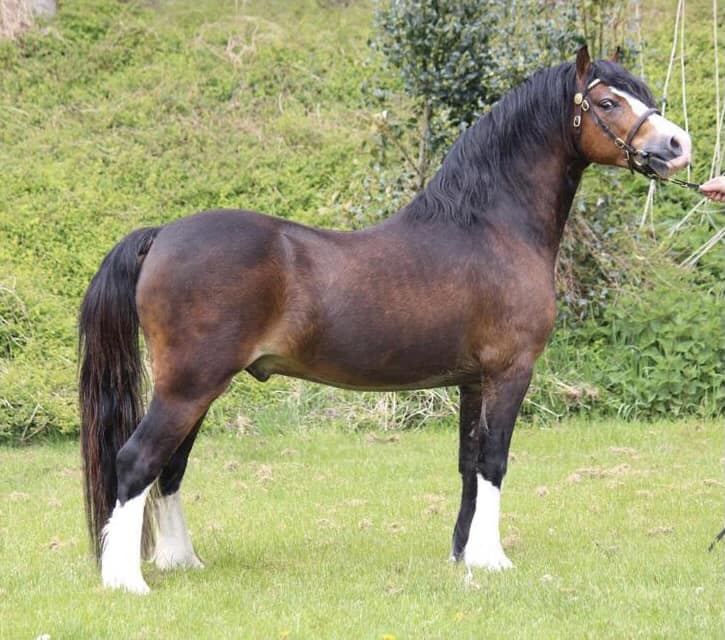 Uiterwaardens Special Gift
Born 2019
Uiterwaardens Special Gift is a young stallion coming from bloodlines that we have wanted to use for decades.
Special Gift descends from the maternal line of Criban Ruby/Ystrad Jewel, a line that has produced many influential stallions since the beginning of registration, such as  Criban Bantam, Criban Pledge, Ystrad Klondyke and Invincible Taffy, but also our first stallion Criban Star Fiddle. After Dyrin Quicksilver, Criban Star Fiddle and Varpullan Wieroch, Special Gift is the 4th stallion out of this line that we have decided to use.
Criban Bantam's 3/4 sister Criban Golden Spray was a legendary mare to which Dr Wynne Davies dedicated a full chapter in his book "Welsh Ponies and Cobs". One of her last daughters, Betws Ser-y-Bore went to Scotland to the Gartconnel stud of John and Liz Russell. I spent some time at the stud, especially admiring Gartconnel Salad, a son of Betws Ser-y-Bore who was an exceptional example of the breed. Lots of presence, substance and above all, a very strong mover. Salad was second at the RWAS when Nerwyn Cadno won male championship. 
We almost purchased his grandson, Nantdywyll Barcud Ap Bargen as a two year old, 
Jef de Kanter of Lange Voren stud managed to purchase Salad's full sister Gartconnel Ser-y-Bore, so I was quite excited to get some offspring. But it was until she arrived at Uiterwaarden stud that she started to produce more promising offspring. 
With Dukeshill Masterclass follows an outcross to a line that has entered our stud some time ago through Dukeshill Magnum. Centannials Indigo then enters an infusion of above mentioned Nantdywyll Barcud Ap Bargen and with Uiterwaarden's Expression as a sire, Special Gift is the first stallion we use carrying Flydon Henry Ap Pip.
---
Uiterwaardens Special Gift
Uiterwaardens Expression
Vechtzicht's Hywel
Springbourne Claret
Penual Mark
Springbourne Carys
Vechtzichts Hylight
Vechtzichts Lightfeet
Springbourne Hyflyn
Flydon Eos
Flydon Caradog
Flydon Henry Ap Pip
Flydon Cornpoppy
Flydon Pioden Wen
Flydon Henry Ap Pip
Flydon Pipsen
Uiterwaardens Sunshine
Centannials Indigo
Colne Tana
Nantdywyll Telor
Colne Trisca
Centannials Isadora
Knodishall Geraint
Ysselvliedts Ilona
Uiterwaardens Serenwen
Dukeshill Masterclass
Dukeshill Darcy
Dukeshill Ma Larkin
Gartconnel Ser-y-Bore
Gartconnel Wyn
Betws Ser-y-Bore
---