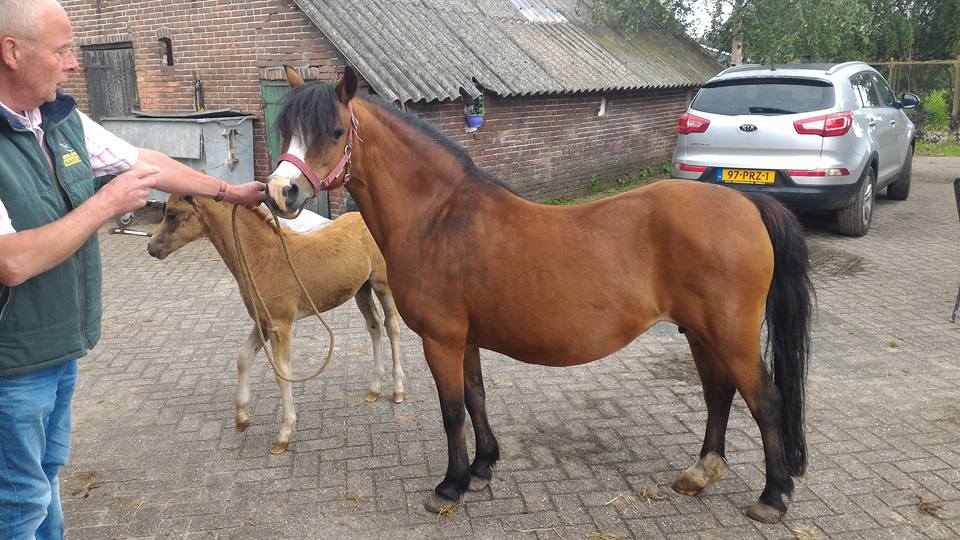 Kompas Yvana
Born: 1996 
Breeder/Owner: Fam. Maat, Uithoorn
Photo 2016, by Joost van Gestel
The family Maat purchased Sumrin Thor as a foal back in 1993 and bred a number of good ponies by him. One of these was the "ster" mare Kompas Yvana out of Boreas Yucca. Yucca was by Rowfant Sherpa, who had three close crosses of Revel Spring Song and was out of a Coed Coch line.
The family Maat has bred some good offspring from Yvana, one example is, Kompas Ylona, who has been successful as a showmare and as a breeding mare.
Interesting enough, there is also a cross of Ness Daffodil on her granddam's side through Craven Debonair (behind Coed Coch Rhywent).
---
Kompas Yvana

Foxhunter Pantheon

Penual Mark

Revel Jeeves

Penual margo
Foxhunter Parakeet
Penycwm Brenin
Foxhunter Pride
Sumrin Taru
Dyfed Geraint
Revel Centre
Dyfed Gwen
Dyrin Tina
Dyrin Martini
Dyrin Grey Dawn
Boreas Yucca
Rowfant Sherpa
Revel Siroco
Revel Society
Revel Sepha
Revel Soraya
Twyford Grenadier
Revel Sabu
Hogekamp's Habanera
Vechtvliet Willem I
Weald Titmouse
Criban Grey Ray
Matasja
Coed Coch Salsbri
Coed Coch Rhywent
---