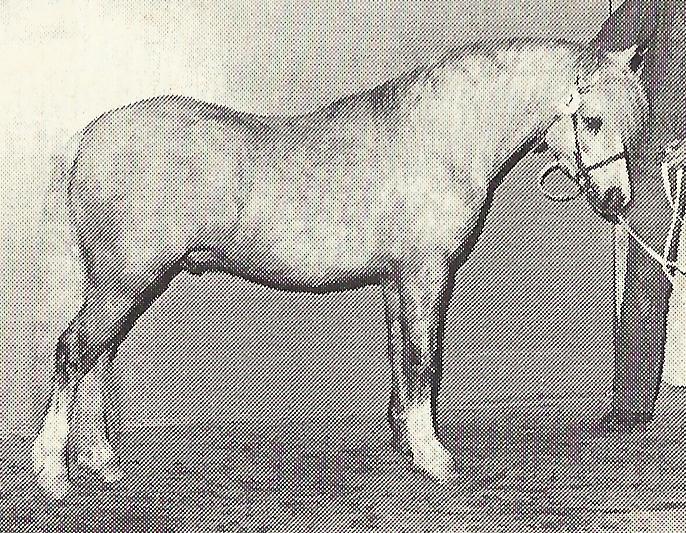 Sumrin Sunstar
   (Photo by Ellen van Leeuwen)  
Born, 1976  
Owned by: Fam. Schilthuis
---
Sumrin Sunstar was born in 1976 in Lierop at Sumrin. He was the very first foal we had by Vardra Julius
Mr. Spronken of Varpullan wanted to produce him for the stallion inspection, so Sunstar was shown in joint ownership with Mr. Spronken.
Sumrin Sunstar was approved in 1979 with a first premium standing second to Biesdeel's Sedan, just before Sumrin Tristan who was standing third. Sunstar was sold to the Schilthuis family of Windhoek stud, where he did well siring good stock. Interesting enough, he ended up high in the sire ratings, to equal his famous father's ratings, but in that very same year he was gelded, because nobody wanted a palomino at the time.
Unfortunately, his influence to the breed has become very limited. There is one section B stallion that traces back to him, named Dominant van de Gaweg.
Sumrin Sunstar
Vardra Julius
Twyford Sprig
Coed Coch Asa
Gredington Hynod
Coed Coch Anwyled
Revel Spring Song
Pendock Playboy
Revel Serenade
Revel Pinup
Revel Light
Pendock Playboy
Winestead Larina
Revel Playtime
Pendock Playboy
Winestead Zenia
Dyrin Seren Wen
Brierwood Goldleaf
Brierwood Popwood
Brierwood Whiteking
Brierwood Lolipop
Brierwood Bayleaf
Wentworth Mentor
Brierwood Treacle
Cwmowen Nutshell
Dyrin Athlete
Criban Cockade
Dyrin Princess
Cwmowen Lady
Forest Blue Banner
Cwmowen Young Cream Nellie
---