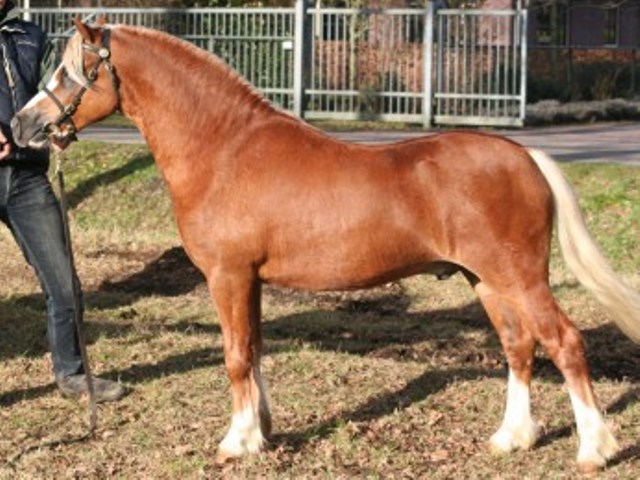 Breeder: Roel Blokzijl, Wezep
Owner:Harrie Peters / Willie van Keulen
Born: 2007
---
I really already admired Danny Boy's granddam, Pendock Dahlia, as she was out of my favourite lines of Welsh ponies, Forest Tosca - Craven Tosca - Craven Toscanini - Pendock Bluebell -Pendock Phlox - Pendock Pansy. That combined with the quality of Revel Spring Song, Coed Coch Anwyled and Criban King Bee as an icing on the cake. 
Danny Boy's dam Lowland Daffodil was a very prolific breeding mare, having left three stallions on the ground: Daredevill (by Moorcock Bracken), Lowland Damon (by Waxwing Hillbilly) and Lowland Danny Boy, along with a few good mares.
I was already excited when a daughter of Sumrin Bluebell and Springbourne Glide was in foal to him. The combination gave a lovely colt by the name of Our Dream Brilliant, that we showed with much pleasure in 2013 and 2014. As we were choosing a stallion for Sumrin Timea, it was clear that Danny Boy was the top candidate. We are very happy he didn't let us down and leave us a very promising colt.
---
Lowland Danny Boy
Dukeshill Magnum
Dukeshill Action Man
Bengad Nepeta
Sinton Solomon
Coed Coch Nico
Revel Just Fun
Revel Caruso
Revel Just Fine
Sunwillow Mutters
Revel Playsome
Twyford Sprig
Revel Playtime
Sunwillow Fusshorn
Coed Coch Norman
Sunwillow Bernina
Lowland Daffodil
Criban King Bee
Criban King Harry
Coed Coch Brenin Arthur
Criban Mair
Criban Sunbee
Vardra Sunstar
Criban Queen Bee
Pendock Dahlia
Twyford Scamp
Coed Coch Asa
Revel Spring Song
Pendock Pansy
Clan Pip
Pendock Phlox
---
| | |
| --- | --- |
| | |
| SIRE: Dukeshill Magnum | DAM: Lowland Daffodil |
---