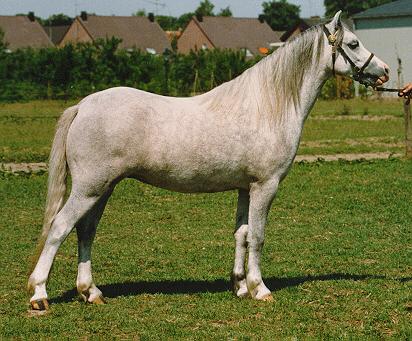 Revel Comfrey  
Photo by Ellen van Leeuwen
Born: April 1987
Died: 1999
In 1987, Mr. Arthur Spronken, my father and I went to Wales to have a look at some studs and to see the Glanusk show. Some of the main targets were the Revel stud, Dyfed stud, Rookery stud and Maesgwyn stud. In the previous year, Mr. Spronken had swapped Vardra Julius with Dyfed Geraint.
We came to see how Vardra Julius was doing in his homeland. Also, my father had never seen Revel Humming Top in real life. The year before, I saw him on one of the trips that the Martens family arranged. My father was really impressed with him, as he impersonates true Welsh character. In the same trip, we were invited to see some of the first foals. We came to a field near Cwmdu, where Mr. Griffiths showed us a herd of mares. Two of them had already foaled: Revel Hey Lady and Revel Curtsey. Revel Curtsey had a very striking filly foal. She was running up on the hills, always ahead of the herd. Although we did not come to Wales to buy, my father asked whether she was for sale. Mr. Griffiths said that he wasn't quite sure, as he also stated that all of his foals would be like that, but he asked us to offer money. Anyway, we went on to the Rookery stud to see Rookery Juniper, the last remaining son of Criban Bantam. There even Mrs. Mills (Rookery stud) said that she heard that Mr. Griffiths had such good foals this year. Anyway, Mr. Griffiths decided that we could buy her and so we did, in the morning on the showday May 2, 1987. They had decided to name her Revel Comfrey. Later that day, Revel Humming Top got awarded the Overall Championship at the Glanusk show, where he was first showed my Miss Marian Martens, after which Mr. Griffiths himself showed him during the championship.
Comfrey came to Lierop in October 1987. As usual after a transport she was quite tired and people gave mixed reviews. Nevertheless, she built up a good showing career:
1988: Junior champion in St.Oedenrode,
1st at Wanroy (junior championship won by Revel Humming Tune)
1989: Junior champion in St.Oedenrode,
First in Heteren (was not allowed to compete for championship because she was not from the region)
Junior National Champion at Kootwijk
1990: Shown once, second to Vechtzicht's Hylight (later national champion). Qualified for the National
1993: 2nd of her class behind Sumrin Bluebell at regional show in Wanroy and qualified for the National.
1995: First at regional show in Wanroy
First at the National Show in Kootwijk
1999: Sold as a leading rein pony. Died shortly afterwards.
her foals:
1991: Sumrin Campina by Vardra Julius
1993: Sumrin Colibri by Foxhunter Pantheon
1995: Sumrin Cosmos by Baledon Milky Way
1997: Sumrin Captain by Nachtegaals Captain
Revel Comfrey's full Brother Revel Craze was a successful sire in Wales.
Parents:
| | |
| --- | --- |
| | |
| Sire: Revel Hummng Top | Dam: Revel Curtsey |
---
Revel Comfrey
Revel Humming Top
Revel Centre
Revel Chip
Clan Pip
Revel Choice
Revel Chelsea
Clan Pip
Revel Choice
Revel Humming Bird
Revel Chelsea Fan
Revel Cello
Revel Chelsea
Revel Hey Lady
Revel Chip
Revel Heulyn
Revel Curtsey
Revel Carlo
Twyford Sprig
Coed Coch Asa
Revel Spring Song
Revel Cameo
Bowdler Blighter
Revel Cascade
Revel Chelsea
Clan Pip
Clan Tony
Clan Prue
Revel Choice
Vardra Sunstar
Nance O'r Bryn
---