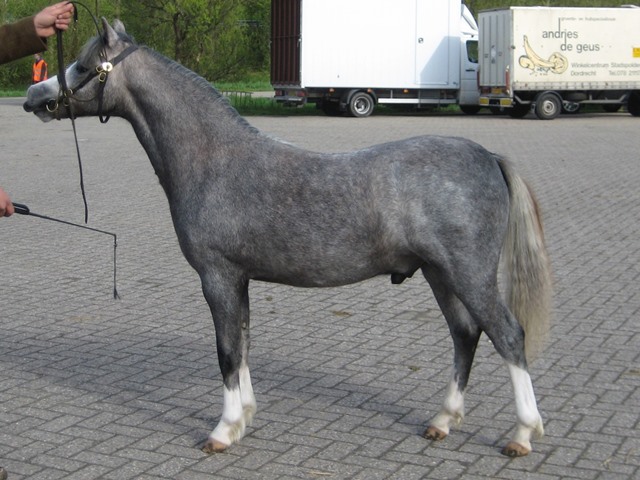 Born May 15, 2012
Our Dream Brilliant at the WPCV show in 2013. Photo by Katja van Gestel
We rarely ever purchase colts, but sometimes an opportunity comes by to purchase something special. Our Dream Brilliant is an excellent mover and would be an interesting future prospect for our mares. Due to circumstances, we had to see him in 2015, after which he had a good driving career.
Brilliant is a grandson of my favourite mare, Sumrin Bluebell.
He was the reason that we used Lowland Danny Boy on Sumrin Timea to produce Sumrin Topelius.
The line of Criban Star Fiddle was perpetuated in Horselands Cracker.
---
| | |
| --- | --- |
| | |
| Sire: Lowland Danny Boy | Dam: Our Dream Bo |
---
Our Dream Brilliant
Lowland Danny Boy
Dukeshill Magnum
Dukeshill Action Man
Bengad Nepeta
Revel Just Fun.
Sunwillow Mutters
Revel Playsome
Sunwillow Fusshorn
Lowland Daffodil
Criban King Bee
Criban King Harry
Criban Sunbee
Pendock Dahlia
Twyford Scamp
Pendock Pansy
Our Dream Bo
Springbourne Glide
Springbourne Claret
Penual Mark
Springbourne Carys
Springbourne Glenys
Revel Carreg
Rosecottage Giulia
Sumrin Bluebell
Criban Star Fiddle
Bowdler Beethoven
Criban My Stars
Sumrin Titiana
Vardra Julius
Dyrin Tina
---